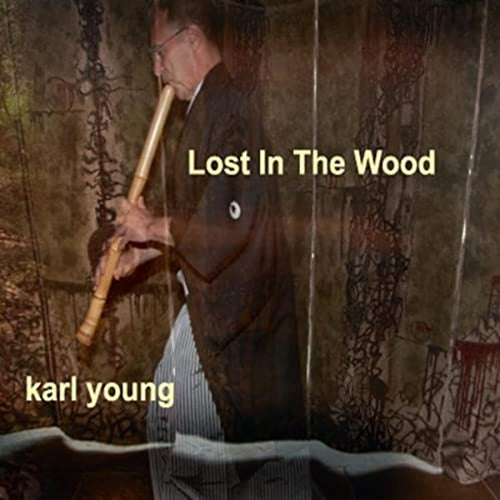 ABOUT KARL YOUNG
After spending some time as a jazz tenor saxophone player Karl Young embarked on a career as a physicist and chose to satisfy his musical yearnings with an intensive study of the shakuhachi or Japanese bamboo flute.

Over the past 20 years he has studied with a number of teachers; his primary sensei are Kaoru Kakizakai and Riley Lee, both masters in the dokyoku tradition and students of Katsuya Yokoyama. While his focus has been on the traditional solo honkyoku repertoire or 'original pieces' in the dokyoku tradition he also plays sankyoku or traditional ensemble music with shamisen and koto, in addition to minyo or Japanese folk music. He is co-founder of the group Ensohza, formed in 2006, specializing in traditional minyo and Japanese folk dance, in which he plays the shinobue or transverse bamboo flute as well as the shakuhachi. Eventually he couldn't help wandering back to his roots and, though playing jazz on a shakuhachi poses serious challenges, he realized that with the development of an appropriate approach, the stirring, hauntingly beautiful sound of the shakuhachi could provide something compelling in a jazz context. He recently worked with his muse, jazz flutist Ali Ryerson and others on developing such an approach.

'Lost In The Wood' provides solid evidence that that realization was sound. Producer Mad Duran assembled an all star cast of musicians who were eager to provide a unique setting for the shakuhachi. Mad's inspiration to combine the sound of marimba virtuoso Christian Tamburr with the shakuhachi resulted in an original, organic sound on standards as well as on Karl's pieces. In addition to anchoring a meditative duet version of Wayne Shorter's Infant Eyes, Christian provides a beautiful duet part for the traditional Buddhist solo shakuhachi piece Yamagoe, and contributes inspired piano on Karl's ballad Lupinus Langorious. Albert Ayler's classic Ghosts is given a special treatment by combining the sound of the long shakuhachi with the sensitive playing of Shoko Higake on koto and John Shifflet on bass. The strong percussion work of Raul Ramirez and Vince Delgado throughout provides strong focus and given the open harmonic context, bassist David Pinto adds extra melodic flair to the pieces he plays on. Besides providing great solos, the enticing sounds of Mike Olmos's flueglehorn and Mad Duran's alto flute provide an exquisite complement to the shakuhachi in the ensemble pieces. Karl's amusing shakuhachi rendering of Jimi Hendrix's guitar sound on Murasaki Muraiki provides a truly novel setting for the shakuhachi.

In addition to providing some great jazz, "Lost In The Wood" offers a new, unique, and compelling combination of sounds.